View example installation work

Hi. My name is Peter. I operate a family owned, independent burglar alarm installation business. This independence gives me the freedom to pass on many advantages to my customers.


I offer quality systems.
The finest installation service.
Most importantly low prices
Providing this has earned a great reputation for first-rate work, and personal attention. Something larger national organisations promise but hardly ever deliver.
It has been said that a satisfied customer is the best form of advertisement, and I know this to be true. Because we operate in a way that is unique in the industry, I totally rely on existing customers for referrals and repeat business.

There is no better way to prove to new potential customers that I am always committed to providing good service and quality workmanship. I am proud to say I have succesfully done this for the past 18 years. After all, your security is my business.

You the customer have an important role in your own security too, and you start by not being taken in by the cheap, slikly marketed, low quality offerings, provided by the large volume selling companies.
All our prices for the supply, installation or service of intruder alarm or cctv systems. Are based on the requirements of each client, detailed in our no obligation site survey and security risk assessment. All our Alarm Systems are EN50131 System Grade 1, 2, 3 or 4, installed to conform with PD6662:2004 & DD243:2004
If , you have an enquiry or require !FREE NO OBLIGATION SURVEY! contact or call 01924 264205 or Mobile 0789 905 3979. You will be talking to me directly, not some faceless person in a call centre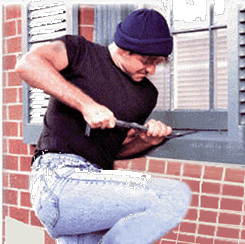 Don't make it easy for him, together
we will put him out of business
WE USE A BRITISH MANUFACTURER OF EQUIPMENT
We operate in Wakefield, Ossett, Dewsbury, Batley, Mirfield, Heckmondwike, Huddersfield, Leeds, and surrounding areas. Wev'e even installed and trained Alarm Engineers in Ireland


Home Alarm installation